About Us
Welcome to Hall Green Primary School!
Welcome and thank you for visiting Hall Green Primary School's website! For those who don't know, we are situated on Westminster Road in West Bromwich and are part of the Sandwell Local Education Authority. We hope you enjoy visiting our site and learning about our school! You can find academic information, such as Ofsted reports and our School Prospectus, or have a more general look around by using the relevant links!
Welcome from our Head Teacher!
Thank you for visiting our website. We are proud of our school and all it stands for.
I hope that this site will give you a flavour of what our school is about. We have tried to make it an informative, and to give you an insight into the life at Hall Green.
Our school is a warm and friendly place where everyone is valued. We believe that every pupil should be given an equal opportunity to achieve their full potential in a positive and caring environment. Their time with us is, after all, as our mission statement says, their "chance to shine".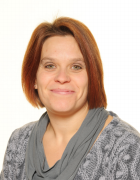 Mrs A Gilbert
Interim Head Teacher
We welcome parents as partners in the learning process and we value the efforts of so many people that help us to achieve our objectives.
We are fortunate in having a Governing Body who gives freely of their time, expertise and commitment to the organisation and development of the school.
I hope that you will join us as we move forward together to make the school a place to which we are proud to belong.